Atillo Balintawak World Arnis-Eskrima - Original Saavedra Style
The Official Website of Grandmaster Crispulo "Ising" Atillo
Welcome to the official website of Grandmaster Crispulo "Ising" Atillo and World Atillo Balintawak Arnis - Eskrima – Original Saavedra Style! Grandmaster Atillo is a Filipino Martial Arts legend and the founder of Atillo Balintawak Eskrima – Original Saavedra Style.
As the youngest member of the famed Balintawak Self Defense Club founded in 1952 by Venancio "Anciong" Bacon along with other legendary eskrimadors to include Delfin Lopez and his father, Vicente "Inting" Atillo.
Read More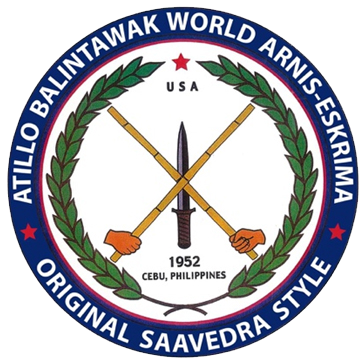 Train with the Grandmaster
Grandmaster Crispulo "Ising" Atillo offers private, semi-private and group lessons at his residence in Beaumont, California. To schedule your training, click on the Contact Us or call Grandmaster Atillo directly at (909) 363-6435.
Private and Semi-Private classes enable Grandmaster Atillo to focus on an individual's needs and teach Atillo Balintawak Eskrima in a step-by-step manner that will optimize their learning.Grandmaster Atillo's sense of humor and passion for teaching make each training session an enjoyable and rewarding experience.
Read More
Seminar Schedule

September, 2016

October 22, 2016

Atillo Balintawak Seminar – Canoga Park, CA

Dragons Martial Arts Studio

Atillo Balintawak Seminar – Beaumont, CA